Flex PCB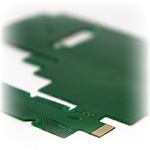 Flexible circuits facilitate weight reduction of finished electronic products, whilst allowing the increase in circuit density and eliminating bulky connections and wiring. The ability to fold a flexible circuit expands the boundaries of design and packaging.
The Group is well places to meet the strict requirements of the electronic device manufacturing process by offering products of good quality, reliability, at competitive prices and with high volume capacity. With over 8 years 'flexible circuit experience, Onpress is one of the leading flexible circuit manufacturers with annual production capacity of approximately 180,000 sq.ft. of single and double-sided circuits.
The Group's strategy is based on low-cost, high-volume fabrication processes and techniques, with the ability to design circuits in configurations from simple, single-sided conductive paths to complex high-density flexible circuitry.
The Group offers a full range of products to the automotive, computer, communications, industrial and medical markets. Certified in ISO/TS16949:2002, the Group's process control systems, automated optical inspection and functional electric test facilities are able to provide the quality assurance needed to meet the high standards of customers.